Kyle is the writer behind The Travel Runner. He's a full-time traveler and adventurer who's visited over 20 countries, including places like Thailand, Mexico, Vietnam, and Albania. He prefers a slower pace to his travels to explore destinations more in-depth and to get a feel for what life is actually like there. When he's not writing, he's usually off exploring trails with his fiancée, Kaitlyn.
Can trail running shoes be used on a treadmill? Often, you don't have time for the trails. Find out if you can wear trail running shoes on the treadmill here.
---
We've all thought about it.
You look at your shoes, then at your treadmill, then back at your shoes.
Can I wear trail running shoes on a treadmill? I just want to get a workout in.
And that's exactly the question I'll answer in this post 👇.
Note: There are affiliate links in this post. I am not paid to promote products or experiences, but I may get a small commission if you buy. All money goes into making the website better. So, if you support The Travel Runner, thank you.❤️.
Can you wear trail running shoes on a treadmill?
Yes, you can use trail running shoes on a treadmill.
In fact, they're a great choice to switch things up from your daily routine if you usually run in road running shoes.
Whether at the gym, at your home, or on the random treadmill you found in a back alley, getting a workout in is your top priority.
While trail shoes are designed for muddy and uneven surfaces, they can still handle a piece of flat rubber under their lugs. The improved traction of trail shoes can help your treadmill grip. Plus, you get stability features for your feet and ankles.
So, what are you waiting for if you're thinking about strapping on your trail runners for a nice run?
The treadmill is waiting for you!
Actually, you should consider a few things before you do that…
Is it a good idea to use trail running shoes on a treadmill?
Just because you can, doesn't mean you should.
As I briefly mentioned above, trail shoes are made to protect your foot from rocks, roots, and all the other attackers on the trail.
So, certain shoe features may make it uncomfortable or degrade your shoe faster.
For example, trail shoes often have deeper lugs. If you've ever worn a pair of trail shoes on pavement or any other hard surface, you know this isn't an enjoyable experience. It's uncomfortable, you risk hurting yourself by changing your form of running, and your shoes wear down faster than usual due to the friction of the harder surface.
Not to mention the deeper lugs could cause treadmill wear and tear. The tread on a treadmill and the rubber lugs on the bottom of your soles have been mortal enemies since birth.
As the last point, you should also check with your gym. Membership gyms may not allow it due to the damage it can do to their equipment.
So, you can use your trail shoes on a treadmill.
But, to prevent damage to your tread and your shoes, buying a pair of running shoes that work on the majority of treadmills is a must.
👉 Want to wear your running shoes casually?: Is it Okay to Wear Running Shoes Casually? [A Quick Q&A on Wearing Running Shoes for Everyday Wear]
What to look for in a pair of trail shoes for treadmill running
Most people use lighter road shoes when they run on a treadmill.
And you should find a trail running shoe that has similar features to a road shoe.
Here are some things to look for:
Shallow lugs. The lugs on the outsole dig into the dirt/mud to give you traction on slippery surfaces. So, look for trail shoes with shallow lugs to have minimal friction.
Lightweight. Because trails are rugged, most trail shoes are built like tanks. That means they're heavier and bulkier with things like toe bumpers. But you don't need the protection on a treadmill, so use a lighter trail running shoe for speed and a lightweight upper.
Flexible. A stiff running shoe on the treadmill (or any smooth surface) is never a fun experience. And because you don't need to protect your feet, you can get a nice flexible trail shoe for treadmill use.
Comfort. Looking for comfortable shoes is always a top goal. If you're using a trail shoe on a treadmill, make this a priority. Soft dirt takes most of the impact, but a treadmill will do less. So find a shoe with some cushion in the midsole.
Best trail shoes for treadmill running
Lucky for trail runners, companies have worked overtime to pump out shoes of all shapes and sizes.
So, you've got options no matter what shoes you want, and it's worth investing in a pair of good ones.
Some of the best treadmill shoes include:
Hoka One One Speedgoat 5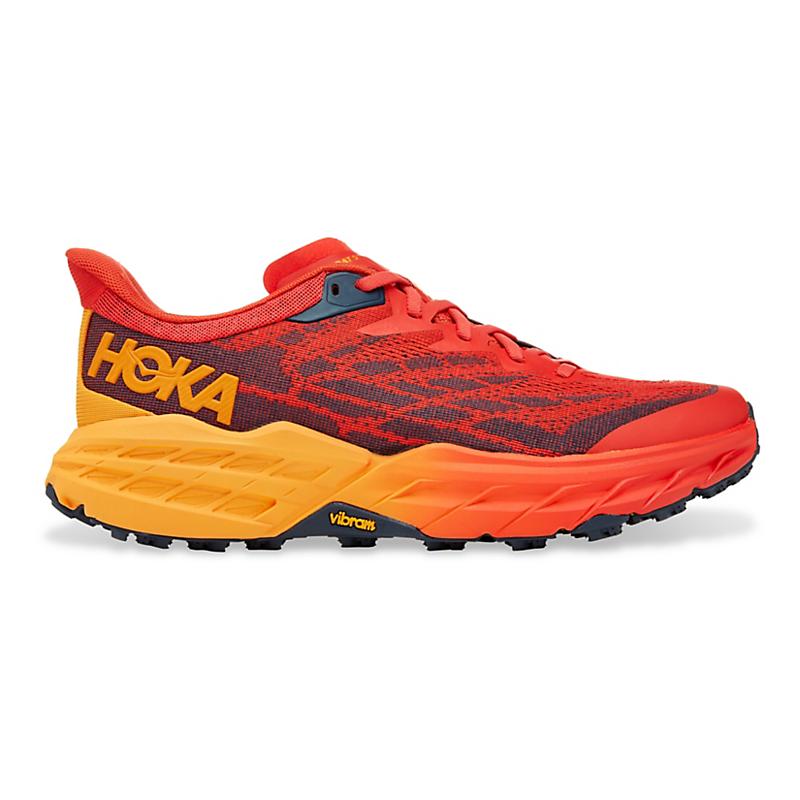 Hoka's Speedgoat 5 is versatile.
From roads to trails to treadmills, the Speedgoat provides comfort throughout.
With excellent traction (but not deep lugs), a thick midsole, and a lightweight form, this shoe checks all the boxes you need.
It doesn't hurt it's one of the best trail running shoes and road running shoes on the market.
Buy the Speedgoat 5: Men's | Women's
Nike Pegasus Trail 4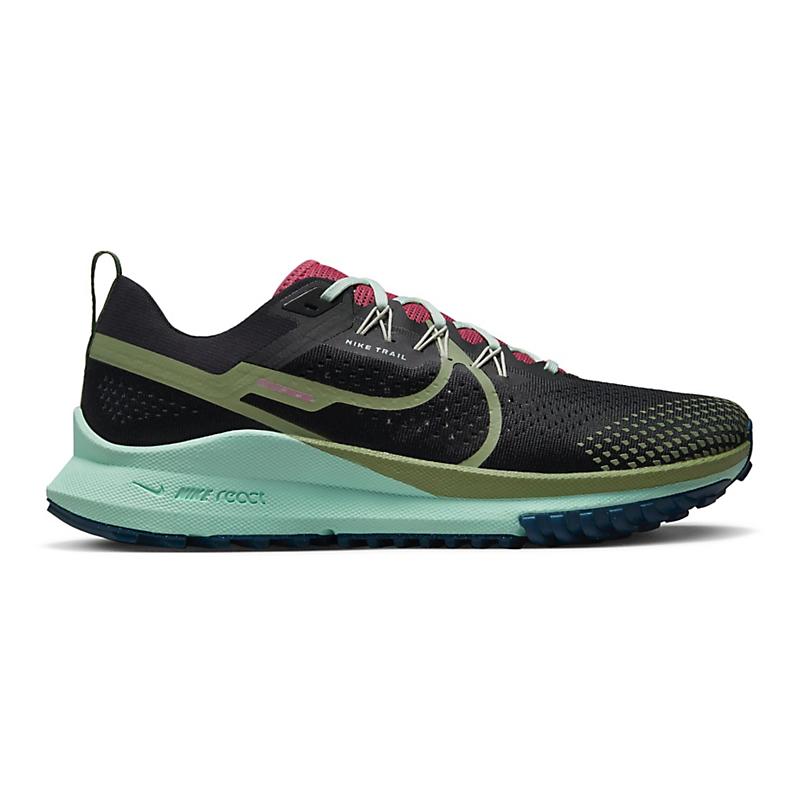 Many companies have caught on to Hoka's success.
And they clearly want to copy one of the best running shoes with their newer ones. Nike is one of them.
Shallow lugs for roads and flat trails (or treadmills), plenty of padding for comfort, and, you guessed it, a light shoe.
The Pegasus Trail 4 is suitable for any surface except technical trails.
Buy the Nike Pegasus Trail 4: Men's | Women's
Merrell Nova 2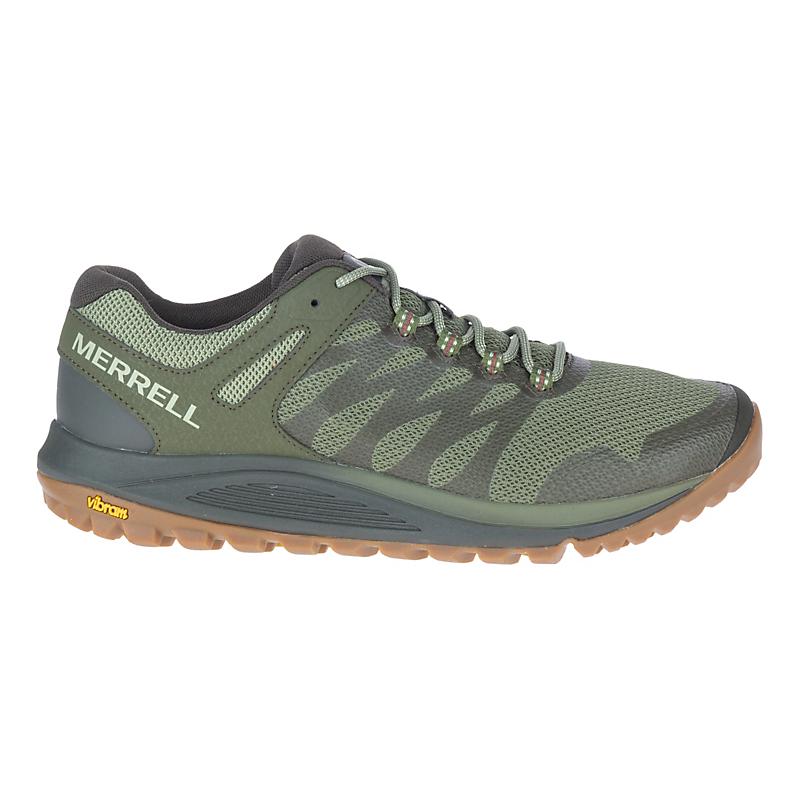 Merrell shoes take the opposite approach.
Low stack heights, lightweight form factor, and they don't go overkill with padding. Due to less padding, they may not be as comfortable for some as the Hoka's or Nike's.
But the Merrell Nova shoes work excellently on a treadmill. (The women's version is called the Antora, but it's the same shoe)
Buy the Merrell Nova 2: Men's | Women's
Salomon Ultra Glide
Salomon is one of the most trusted names in the outdoor industry.
And that's because they put out excellent products, the Ultra Glide being one of them.
With just the right amount of cushion, shallow lugs, and a great fit from heel to toe, the Ultra Glide makes you want to wear them everywhere.
Wearing them for exercise indoors is just one of the benefits.
Buy the Salomon Ultra Glide: Men's | Women's
Saucony Peregrine 12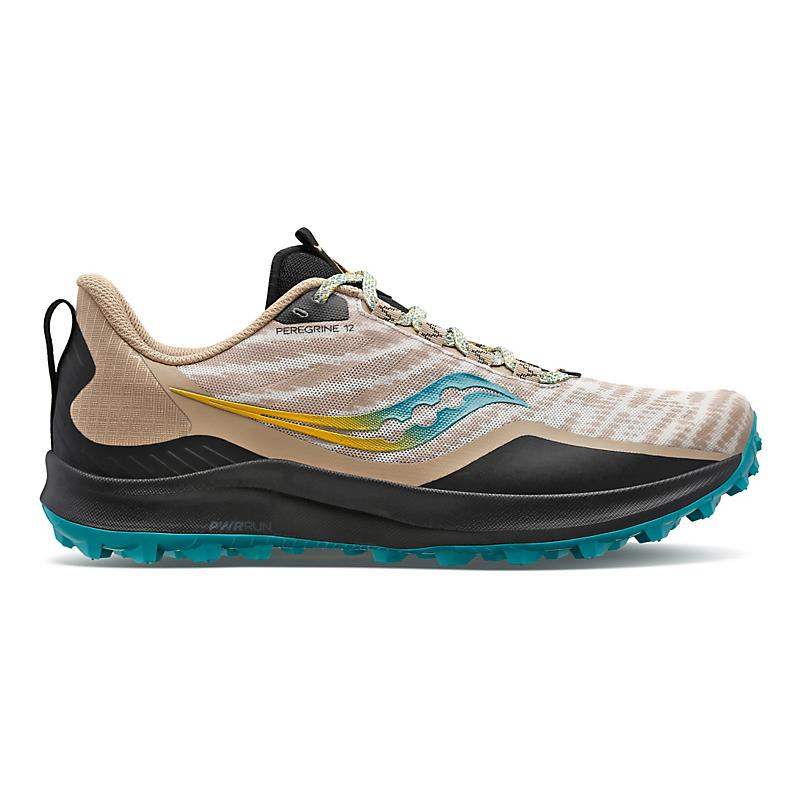 The Peregrine series has been voted the best trail shoe several times.
And Saucony keeps pumping out improvement after improvement.
Lucky for us, these shoes have all the features you need for a great treadmill shoe. Plus, the sticky rubber outsole will give you excellent traction.
And you can usually find these shoes for cheap.
Budget runners rejoice!
Buy the Saucony Peregrine 12: Men's | Women's
So, will you start wearing trail shoes on a treadmill?
So, now that you know the dos-and-don'ts of wearing trail shoes on a treadmill, I'm curious to hear from you.
Will you wear your shoes on a treadmill for running at home or the gym? Or do you already have experience running on a treadmill in trail shoes? Leave a comment and let me know!
Also, you may be interested in if you can wear trail shoes for hiking. The quick answer: yes!
Last, if you aren't already, follow me on Facebook, Instagram, YouTube, and TikTok!
Looking to start your trail running journey?
Everything you need to hit the trails today in 20 easy pages. And completely free.
Click the button below to get it 👇